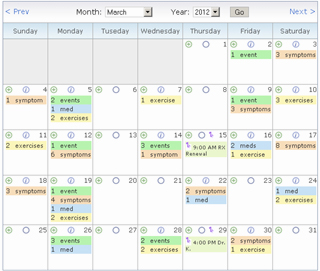 Binfy has a comprehensive set of free interactive health related tools. Select trackers to use based on specific health conditions, track hundreds of health symptoms, meds/OTCs/Vitamins, and exercises. Companion charting and history reports abound to quantify health trends, and share on doctor's visits. Other free health tools: tracking calendar and date book, health calculators, healthy reminders, polls, chart rooms, and more!
Visit Binfy.com today!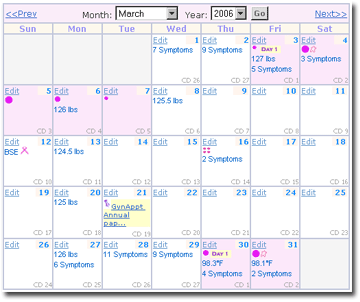 MyMonthlyCycles® offers dozens of free menstrual cycle and fertility cycle tools, including:
Comprehensive Menstrual, Fertility, Symptom, Perimenopause tracking calendar
Period Calculator, Ovulation Calculator Calendar, Fertility Forecasts, Pregnancy Calculator, Retro Conception Calculator, Is My Period Late Calculator, and more.
Menstrual Cycle, Period, Fertility, Breast Self Exam, Women's Health Reminders
Detailed history reports
Plus Premium services, value-packed cycle accessories: MyMonthlyCycles.com today!


WhenMyBaby™ has free preconception and pregnancy tools: Visit WhenMyBaby.com today!
Copyright © 2003-2013, bInfinity Web, Inc. All rights reserved.
MyMonthlyCycles, MyMonthlyCharts, WhenMyBaby and Binfy are trademarks of bInfinity Web Inc.